Moderators: R!C0, JonMan, RickS
User
Posts: 16
Joined: Wed May 06, 2009 4:25 pm
Hi Guys,
I am using a 12+1 crank trigger wheel and the Sync MX strategy. I understand the extra tooth is used for synchronisation, but in a typical 4 cylinder engine cycle, there will be 2 x crank revolution and thus 2 x occurrence of the extra tooth. How does the EM36 knows which extra tooth is to be use for synchronisation?
I am using a 4+1 cam trigger wheel on the exhaust (TDC) camshaft as the "sync" cam. From the scope of both the crank and cam signal (see attached image), I notice the occurrence of the cam extra tooth pulse at one of the crank extra tooth pulse. Does the sync MX strategy also uses the cam extra tooth for synchronisation too?
Thanks for the clarification!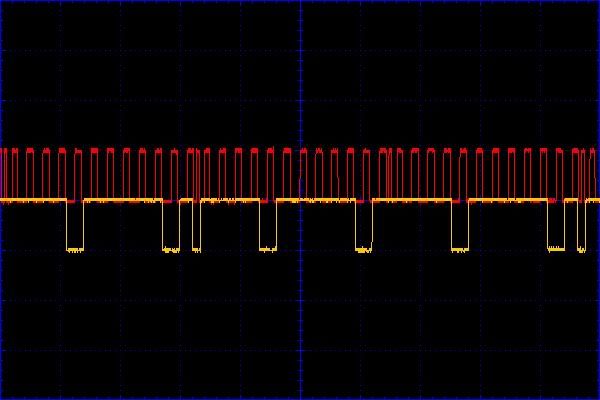 ---
So for extra tooth strategy, option Missing = -1 , Then in your case Honda there is option Sync_Teeth = 2 or 3.
Note if this cam has VVC there could be problem if "extra" cam tooth crosses "extra" crank tooth.
Options then are to set option Sync_Off_Above_Speed, or reformulate for a missing strategy to detect crank tooth after extra tooth.

RichA
---
User
Posts: 16
Joined: Wed May 06, 2009 4:25 pm
Hi Rich,

VVC for the honda is on the intake CAM, thus no problem. The option Sync_Teeth = 2, as the exhaust CAM has 2 negative pulses per crank revolution.

What I have difficulty understanding is how the Sync MX strategy works. Could I trouble GEMS for an explanation?

Thanks!
---
1st search for missing tooth.
2nd count normal teeth shown in MX_Tooth_No, count cam teeth.
3rd detect next missing tooth, does MX_Tooth_No = MX_Sync_Tooth;
if yes then sync'd to crank, does Cam_Tooth_count = Sync_Teeth;
if yes then Stat_Sync'd = On.

Re Honda Sync_Teeth 2 or 3 valid

RichA
---